Image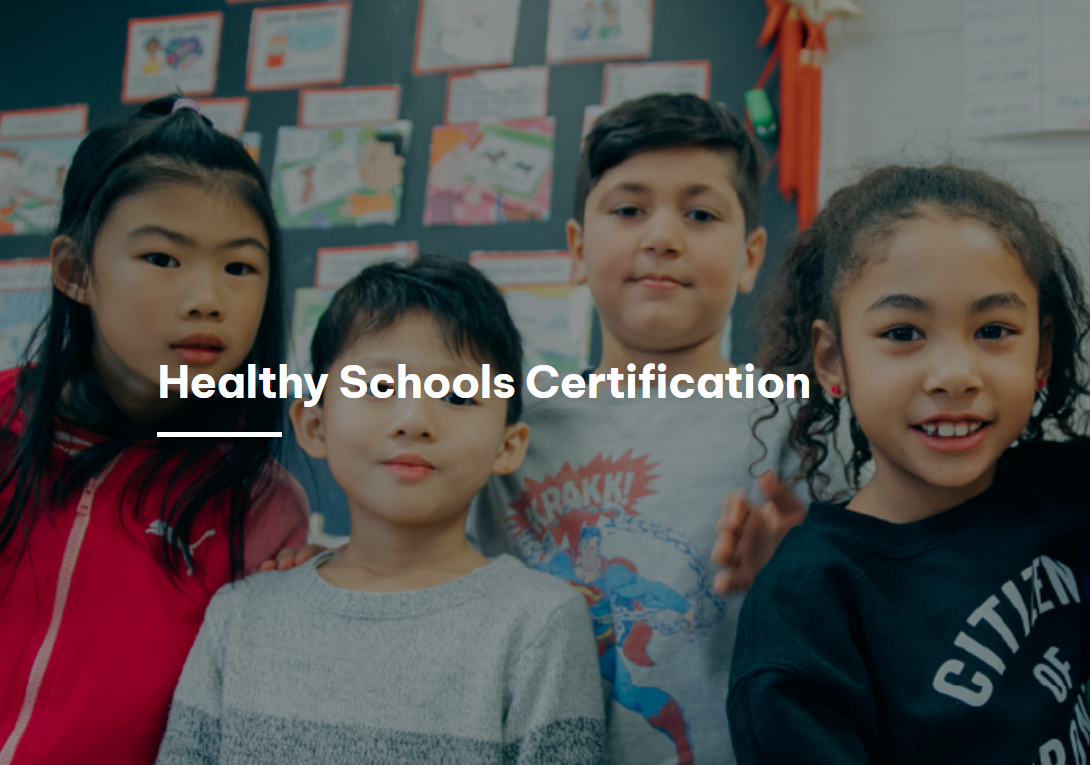 Are you looking for a school-based program that everyone can feel good about? What if you could find one that promotes student leadership, enhances student and staff well-being and builds on what's already happening in your school? How about if the program coincided with the school year, helped support you with implementing school policies, and aligned with your school and school board improvement plans? Healthy Schools Certification can do all that and more! On September 11th, 2023, the 2023/24 Healthy Schools Certification will be open for all elementary and secondary schools in Canada to join!
So, what is a healthy school?
Well, a healthy school involves the whole community, coming together, to share ideas, plan and take action. What we're really talking about is an approach that involves all of us. When this happens, young people are better equipped to meet the challenges of today and tomorrow. They'll be empowered to make healthy choices and manage the risks they face, whatever they may be.
Whether you work in education, public health, recreation, are a local business, or you're a parent/caregiver or a student, you can do this! Healthy schools empower students so their voices can be heard. By engaging students in leadership opportunities, they'll know from an early age that they can have an impact on themselves, their peers, their classroom, their school and their community. Because, healthy living can't just begin and end around the school day, we have to look at what happens before and after school as well.
When it comes to Healthy School Policy, it's important that school policies support healthy, active living for students. Healthy policies make the healthy choice the easy choice, and students have an opportunity to be a part of these discussions. 
When it comes to Teaching and Learning, we're talking about what students are learning before, during, and after school through curriculum and programs that are delivered and supported by school staff and community partners. 
When it comes to Social and Physical Environments, positive social relationships at school and safe, inclusive, and accessible physical spaces help build supportive learning environments where all students are empowered to be active members in their communities. 
When it comes to Partnerships and Services, Ophea and many other organizations are here to help, offering resources and services that will support you in taking action – and taking action only leads to success!
So, your school wants to be a healthy school – let's get ready to take action!
The Healthy Schools Certification provides your school with the tools to promote and enhance health and well-being of students, school staff, and the broader school community. Now is the time to prioritize health, collaboration, and connection in your school community!
Healthy Schools Certification is guided by the following goals:
To support schools that want to enhance the health and well-being of their students and staff. 
To increase student engagement and leadership opportunities to support health and well-being at school. 
To increase adult engagement in prioritizing health and well-being at school.  
To strengthen community engagement and partnerships.
By completing the 4-Step Healthy Schools Process throughout the school year, registered schools earn points and can apply to be certified as a Gold, Silver, or Bronze Healthy School. Certification is flexible and adaptable for all school communities: it's based on a school's ability to follow and complete the process, and not on the type or number of activities completed.
Registration begins on Monday, September 11th, 2023 and remains open until Friday, November 24th, 2023 at 12:00pm (ET). Registered schools get access to:
Activity ideas that connect to different health topics. 
Support, training, and consultation services from Ophea's Healthy Schools Certification Team. 
Recognition banners to acknowledge the hard work of your school team. 
The opportunity to make your school a happier, healthier place!
Learn more about the Healthy Schools Certification Process and how your school can become Healthy School Certified! And don't forget, registration begins on September 11th, 2023 and remains open until November 24th, 2023 at 12:00pm (ET).
Starting September 11th, be sure to celebrate each success along the way, and share your Healthy Schools journey with us by using the hashtag #HSCert and tagging @OpheaCanada on Twitter, Facebook, and Instagram!