Image
Image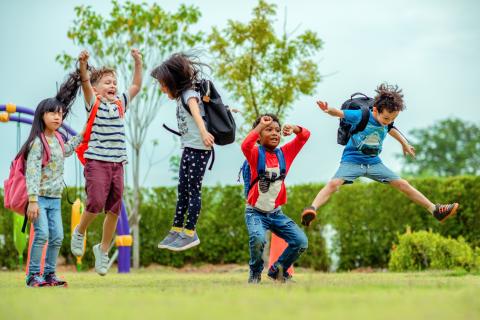 We all know that moving our bodies is important for our physical health. Physical activity is also important for our mental health and can help get students' bodies and minds ready for a day full of learning! 
The school community plays an influential role in helping students engage in physical activity and healthy living opportunities across the school day. The Elementary and Secondary Health and Physical Education (H&PE) curriculum helps students learn the skills and knowledge they need to make healthy and safe choices at home, at school, and in the community — and develop habits of healthy, active living that will enhance their physical and mental well-being for the rest of their lives.  
Program planning and instructional strategies and approaches that are intentional, respectful, and sensitive to a wide range of student needs can make a significant difference in ensuring a meaningful and positive learning experience. The knowledge and skills acquired in a quality H&PE program will help students develop an understanding of what they need in order to make a commitment to lifelong health and active living.  
And guess what... Ophea is here to help with a variety of resources to support the health and well-being of all your students in the school community! 1, 2, 3.... Let's spring into spring together! 
Hands up for Physical & Health Literacy! 
Understanding the importance of physical and health literacy is the first step! Sit back and check out the HANDS UP for Health and Physical Literacy videos. The three-part video series assists teachers, coaches, and community leaders with the implementation of the concepts of physical and health literacy.  
Let's get Cross-Curricular  
Physical activity doesn't only have to happen during phys ed class. In fact, it should be happening across the school day! This keeps students energized and ready to learn. The H&PE curriculum expectations can also be met through cross-curricular and integrated learning. By linking expectations from different subject areas, teachers can provide students with opportunities to move and to reinforce and demonstrate their knowledge and skills in a range of settings. 
Ophea has many H&PE resources that can be used in other subject areas, such as Language Arts and Mathematics. No matter what subject you're teaching, your students' activity counts! Try some of the activity cards from our Activity Counts resource that introduce fundamental math concepts and skills to students in a fun, active way. Activities like Time Warp, Forehead Fun, Tell Me What You Mean, and Rock-Paper-Scissors Probability, address fundamental mathematics concepts and skills in the Mathematics curriculum, including: numbers, algebra, data, spatial sense, and financial literacy, all while giving students the opportunity to move their bodies!  
What about integrating opportunities to move during other subjects or during other parts of the day? Try embedding Daily Physical Activity (DPA), quick 5 – 10 minute activities that get the body moving, into the school day, every day! Research shows that physical activity affects the brain in ways that allow participants to be more engaged, focused, and ready to learn.
The Great Outdoors 
Now let's take the learning outside! The outdoor environment offers a space to develop a healthy active lifestyle while promoting a connection with the natural world, and offers experiences that are unique to the outdoors. Whether you're looking to challenge your students' comfort zones, or finding opportunities to build their appreciation for the environment, use the Elementary or Secondary Outdoor Education Toolkits. Lessons, activities, and additional resources included in the toolkit will help support creating a culture of safety-mindedness before, during, and after outdoor education activities. 
Bring It Home! 
Many people work hard to make sure schools are welcoming, diverse, and happy places where students go to learn, connect, and build healthy, active lives. It is important as a school community to include students' families in their learning. The home environment plays a valuable role in students' learning, as children and youth who have opportunities to be physically active with the family are more likely to continue to be active as adults. To ensure that your class and school has a comprehensive approach to H&PE, work collaboratively with the students' families. 
Consider sharing educational and development-focused curriculum-linked resources to support parents/caregivers/families and all students to keep progressing in their learning in the home, virtual, hybrid, or class environments. Families can start the day with some mindfulness activities, such as Breathing with Awareness, Breathing Good Energy In, Body Sensing Meditation, Happy Place Meditation, and Energy Release. These activities are a quick and easy way to get families physically and mentally ready for the school or work day. These mindfulness activities are also great for the classroom, whether it's to start the day or when you notice that students are getting tired, are not paying attention, or are starting to fidget. It's important to provide active breaks across the school day and at home!  
No matter where you are, remember to give yourself and your students opportunities to move so that they can keep their bodies and minds active and ready for what the day has in store for them!